Sunshine

Sundays, for our
60

Sunshine Families!

We are very happy to report that we have successfully helped 60 families for a total of 45 weeks. Emergency relief was given from March until June 2020. This was followed by our rice and milk drive from July 2020 up to the present.
This year, our new campaign SUNSHINE SUNDAYS aims to encourage more people to join in our caring community, because there is room to give a little more!
HOW CAN YOU HELP?
In Cash. You can be a monthly donor of at least P500. The cash donations are for the purchase of rice and milk. Additional funds will allow us to add other essentials (some are listed below). This has taken the place of our Daily Lunch Packs which we normally provide during school days.
In KIND. SUNSHINE SUNDAYS invite those who can add "60 of Anything" to our "packaged blessings" which we usually distribute during weekends. Suggested items you can donate:
Food for the body
Grocery items

- pot noodles, pasta, tomato sauce, snacks, bread, fruit juice or canned goods like tuna, sardines, etc.

Fresh food

- eggs, dried fish, poultry, beans and lentils

Vitamins

for children and adults


Toiletries and cleaning products

- soap, shampoo, dishwashing liquid, laundry soap, toothpaste, alcohol, cotton, face masks, sanitizer, etc.

Sandwiches, prepared snacks or packed lunch boxes
Food for the mind
Pre-loved books (Basa Pasa Biyaya't Pag-Asa)

Pre-loved toys

School supplies - pad paper, notebooks, pens and pencils; art materials - colored paper, coloring books, craft supplies, crayons, markers, stickers, arts & crafts kits, etc.
Food for the soul
Hand-outs on virtues, bible stories, books for spiritual well-being.
FOOD FOR THE MIND

'BASA PASA, BIYAYA'T PAG-ASA' was launched to enhance the children's reading abilities. Art and craft supplies are provided to develop the kids' creativity, discover their talents, and to build their confidence. When school begins at a later date, our children are prepared, motivated, and ready to take the challenges ahead of them!
FOOD FOR THE BODY
Our FEEDING PROGRAM will provide RICE and MILK periodically for the children. We care about their nutritional growth and health, and this is our way of adding healthy food on their tables.
We also welcome volunteers who can share their time and talents through various social media platforms.

Monthly, Bi-Monthly, Occasionally or on Special Days ....as a family or with a group of friends.... let's share our blessings!
Our giving is not a "dole-out"; it is TO ACCOMPANY A CHILD, A FRIEND, in a time when help is needed most. Let's bring joy, offer hope and spread little miracles.
EVERY LITTLE BIT, WHEN PUT TOGETHER, ADDS UP TO MUCH. NOTHING IS TOO SMALL WHEN IT COMES FROM THE HEART!
On 14 March 2020, the children received a gift that speaks of joy, hope, and love. A donor has kindly donated 'books' to our kids. These are not an 'just books', it is a book authored by our founder, Nini Veloso.
The book is for sale at 150.00 php a copy (proceeds of sales will be donated to the club to procure donations for the children and their families). To get your copy, please send us an email.
With another national lockdown in our midst, we need to brace ourselves for more challenges ahead. We survived the first wave last year. Let's stay together; together is stronger. With God on our side, we will succeed in our mission to take care of our kids, their families, and their future.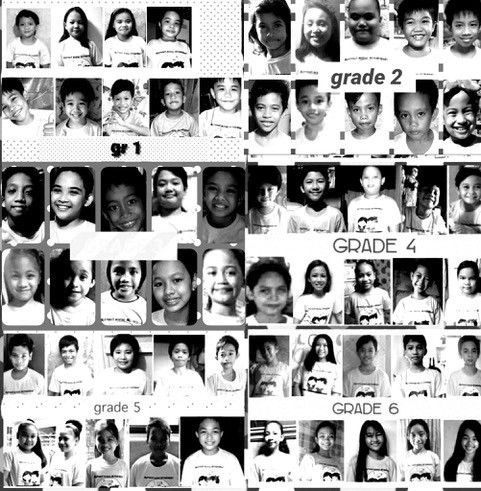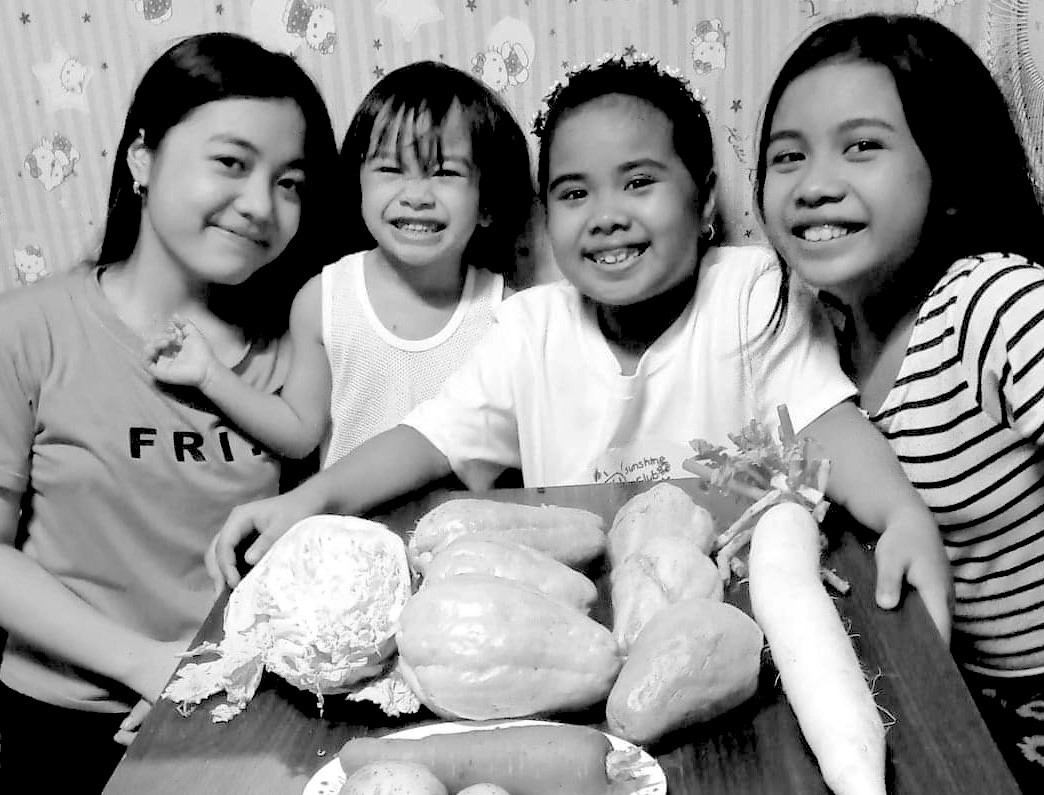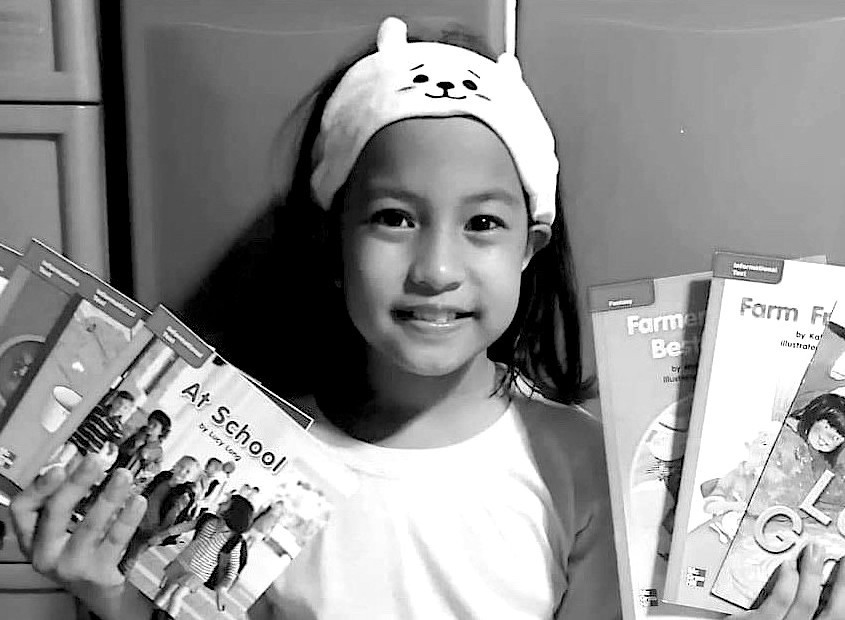 Let's bring some Sunshine to 60 Families!
Every little bit, when put together, adds up to much. Nothing is too small when it comes from the heart.
Please send monetary donations to:
Paypal
Bank transfer
Please send an email to:
lasveloso@yahoo.com
We will send you the bank details
For donations in kind:

(grocery supplies, toiletries, rice, medicines)
Please send us a message by using the form below, or to lasveloso@yahoo.com
We will arrange transport to collect your donation.
To all our donors, our heartfelt gratitude.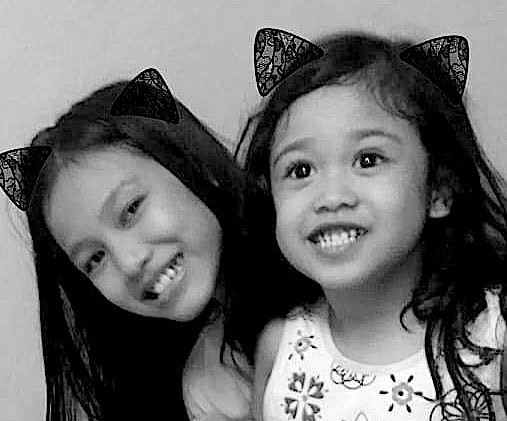 During the month of August, just before school opening in September, blessings arrived for the Sunshine Club. We had a "gentle giant" visitor in Uncle Mert who made a surprise visit and treated us one morning. Uncle Mert is a regular donor of the Club, but it was the first time he met the children up close, during his short visit to the Philippines.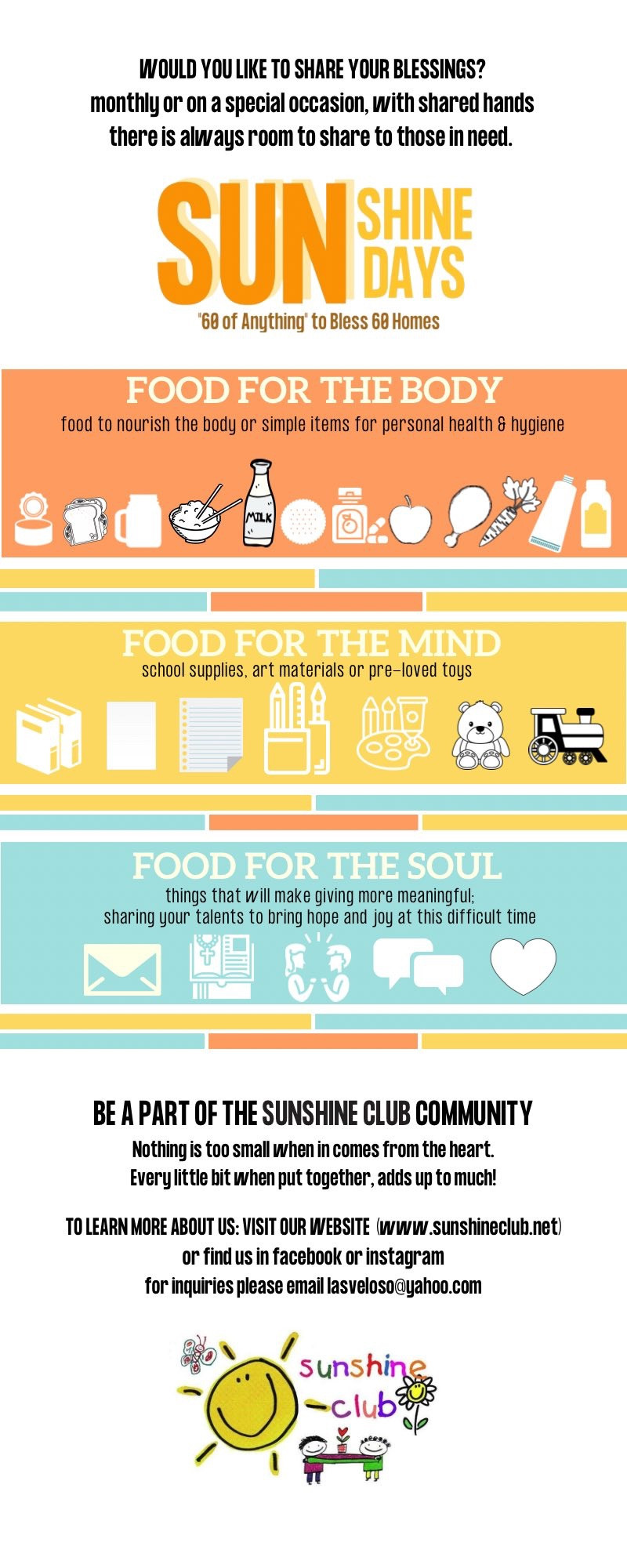 FOOD FOR THE SOUL
As a continuing effort towards values formation, we will bring meaningful stories through various materials to the children and their mothers. We care to bring goodness, hope and joy, specially during these trying times.
A short video of all of the past month's events
Kapwa Kusina is a feeding program which advocates families to share their blessings with the less fortunate. Families give their time, talent and treasure preparing special "home-cooked" meals which will be sent to several families in a marginalized community.
The Kapwa Kusina organizers plan and purchase the ingredients and distribute to the volunteers. Then the participants are given easy-to-cook recipes which they will follow and then package. Each member of the family, including the children, can participate: making the the activity a "labor of love"! The meals are then transported, as recipient families await their special treat for the day!
This August, the Sunshine Club community was selected by Kapwa Kusina to be the recipient of their special meals. Needless to say, the Sunshine families were all smiles: with happy tummies as well! Thank you again, to the Kapwa Kusina community.

A short visit by Uncle Mert